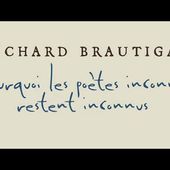 Richard Brautigan, POURQUOI LES POÈTES INCONNUS RESTENT INCONNUS Extraits
✍ "Entre 1967 et 1977, ses poèmes et romans ont été imprimés et réimprimés, La pêche à la truite en Amérique atteignant à lui seul plus de trois millions d'e...
Why Unknown Poets Stay Unknown Some poems in French
Poem for l.w. (*)
Could I,
would I
give you
a sky.
Filled
with
everything
you like.
...and
the clouds
would be
all
the dreams
you've
wanted
to come true.
And
you would
float
on them.
(l.w. for Lawrence Ferlinghetti, the famous poet of the beat generation and the counterculture in San Francisco)
a game called eternity
The simplicity
of life
and the complexity
of death
play a game
called eternity
against
the complexity
of life
and the simplicity
of death
portrait of a man
What would
you do
if the rain
fell up ?
Me ?
Yeah.
Get used
to living
on a cloud,
I guess.
against conformity and averageism
I hate,
because
they are evil
as habitual hunger
in a child's stomach,
people
who try
to change man
the hunter for truth
into
a castrated cow
grazing
in the peace
of mental death.
Somebody Comes to This Place
it is an old story.
Somebody comes to this place
and gros up in the shadows of buildings
and stars and other somebodies.
Somebody learn to love :
to know intimately the houses
of the spirit and the flash.
Somebody learn to hate and kill
and stream and curse like hell.
Somebody learn to be affadi and lonely
and sad, and to know the secret
of darkness.
Somebody learns to like the rain,
and things which are soft and green,
and hot food and cold water,
and the blanket of sleep,
and the music of the land and the sky.
Somebody learn so many things.
It is an old story.
Somebody comes to this place ...
and lives ...
and then goes away forever.
The Haunted Heart
Life's greatest tragedy
is the haunted heart. In which
a huge love presides. A love
that cannot be resolved,
that cannot find the meaning of a kiss,
the peace of an embrace.
Always there is a man who loves a woman
that does not love him.
The shutters of 'the haunted heart bang, the floors
creak,
and the sound of crying comes from a dark room.
creation of a poem
A delicate bird
hit against
night's cruel beauty
and promptly laid
and enchanted egg.
family portrait 2
Three skinny
crumbs
of bread
whose eyes
are crystallised
tears.
Beat your poem :
Just change one syllabe or letter in order to find another word, and follow your music, imagination and rythm. Beat your poem now !
As an example, I beat one as it came, from the poem family portrait 2 :
Family portrait 1 by Laurence Marie Noé (a brautigan dream)
Two crispy
limbs
of Creoles
whose cheers
are chrisalised
wings.
Got it ? It's as easy as a piece of cake, isn't it ? and you can write thousands of them.
Send your poems in commentaries (at the end of my article), leaving your blog link in commentaries, or send it to plauranice.gmail.com.
I will give your poem a special place
and a page in my blog ...
Vous pouvez faire le même atelier en français : choisissez un des poèmes proposés et changez une ou plusieurs lettres dans les mots, de façon à fabriquer d'autres mots qui se rapprochent par le son de ceux de Brautigan.
Gardez le nombre de mots et le rythme, peut-être la musique. Mon principe malgré tout est de rester libre.
Alors à vos plumes et envoyez vos poèmes ou créations à plauranice@gmail.com ou dans l'espace "commentaires" à la fin de l'article. Vous pouvez y entrer l'adresse URL de votre blog si vous en avez un.
A bientôt !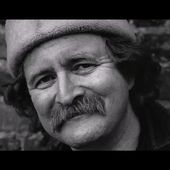 Listening to Richard Brautigan
Listening To Richard Brautigan was the first and only album released by poet and writer Richard Brautigan. The album was recorded and originally meant for re...
Richard Brautigan's voice
Richard Brautigan put an end to his life in 1984 in Bolinas, Washington State. He was the "Last of the Beats".
His poetry was a laboratory of experiences.
He wanted to give the clouds the shape of desires. He practiced collages, associations of words and ideas. The incongruous as well as the strangeness breaks and blurs our perception of something we have known or experienced before.